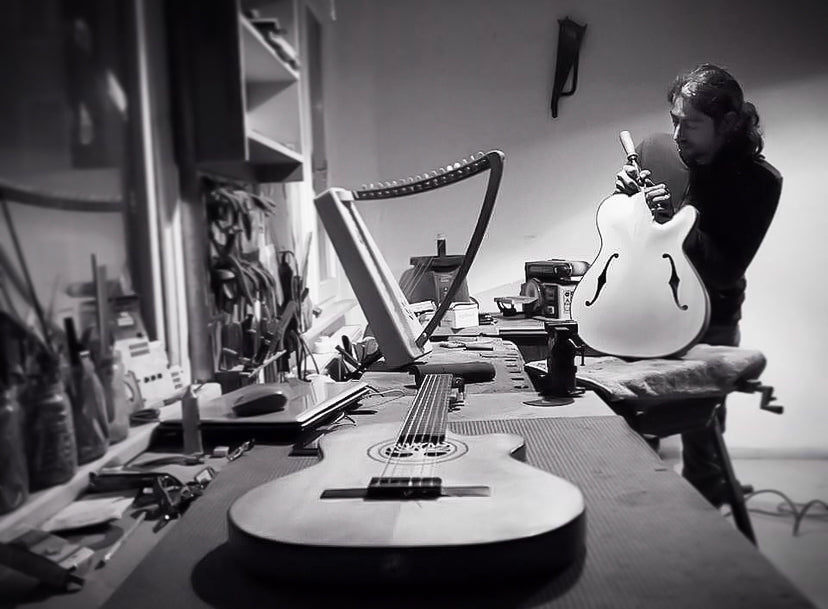 CAN'S BESPOKE ARCHTOP GUITAR is designed and handmade in collaboration with TARU Jewelry and luthier BRIKEN.
The body is carved from a single piece of solid ayous wood, and the archtop is made from solid spruce wood. TARU's OWL, with natural gems, is set on the headstock, whereas the LABRYS logo is set on the tailpiece. Both are made of rosewood, as well as the fretboard, bridge, and the pickguard. The guitar is hand-finished with traditional french polishing, and the pickups are custom made to suit Can's sound.
In 2021, Can and Sefik decided to combine their love for jewelry and jazz to create a custom archtop guitar, unique to TARU. As with all the jewelry pieces of TARU, it was to be completely handmade while including the signature TARU Owl design set on the headstock. Symbolizing 'Wisdom,' the owl was the immediate choice for Can. "It reminds me of my aspirations and the people I look up to. They are the ones who always strive to be the most humble and knowledgeable in their life and field of work," he says. As he has been inspired, Can desires to pass on his creations to others in this cycle of life.