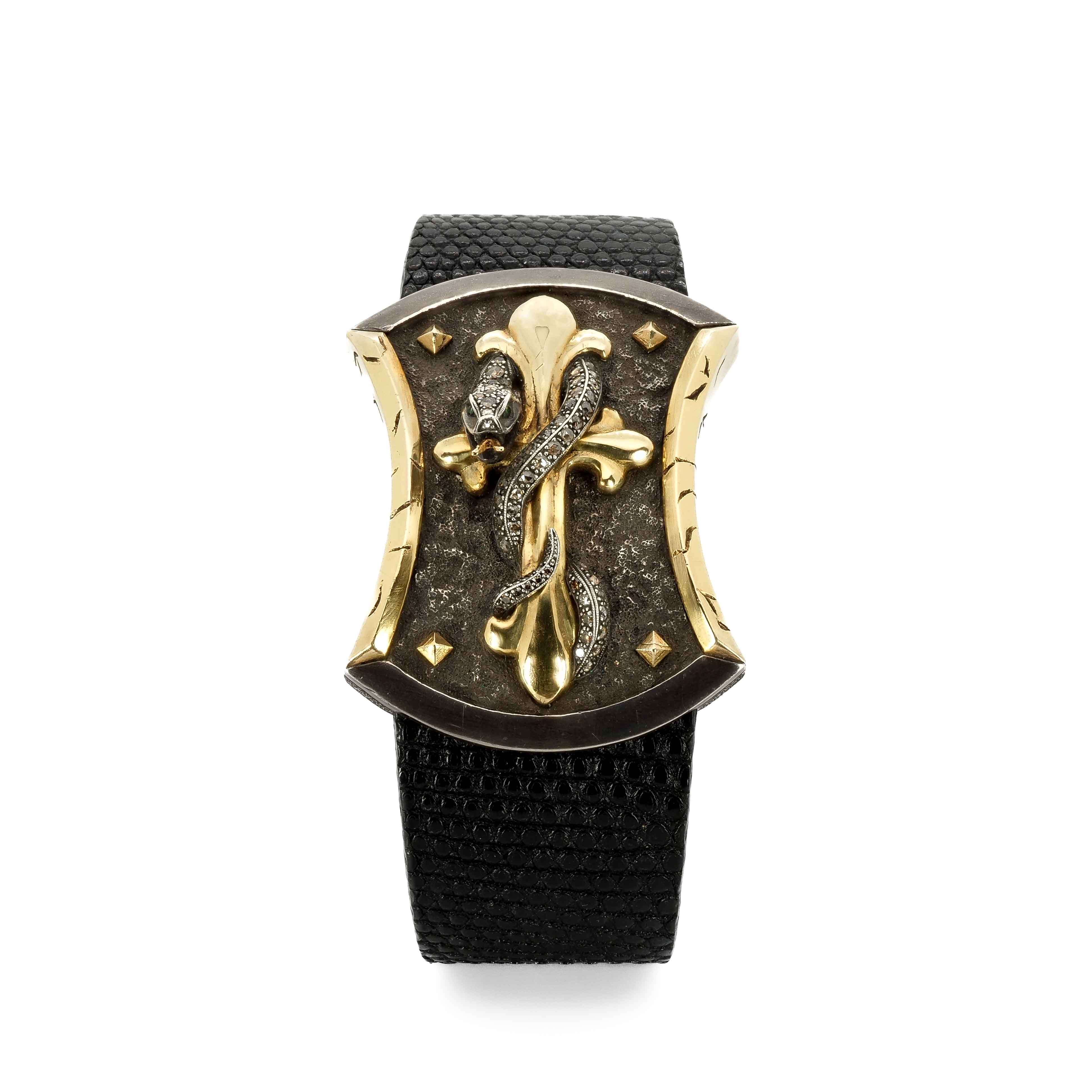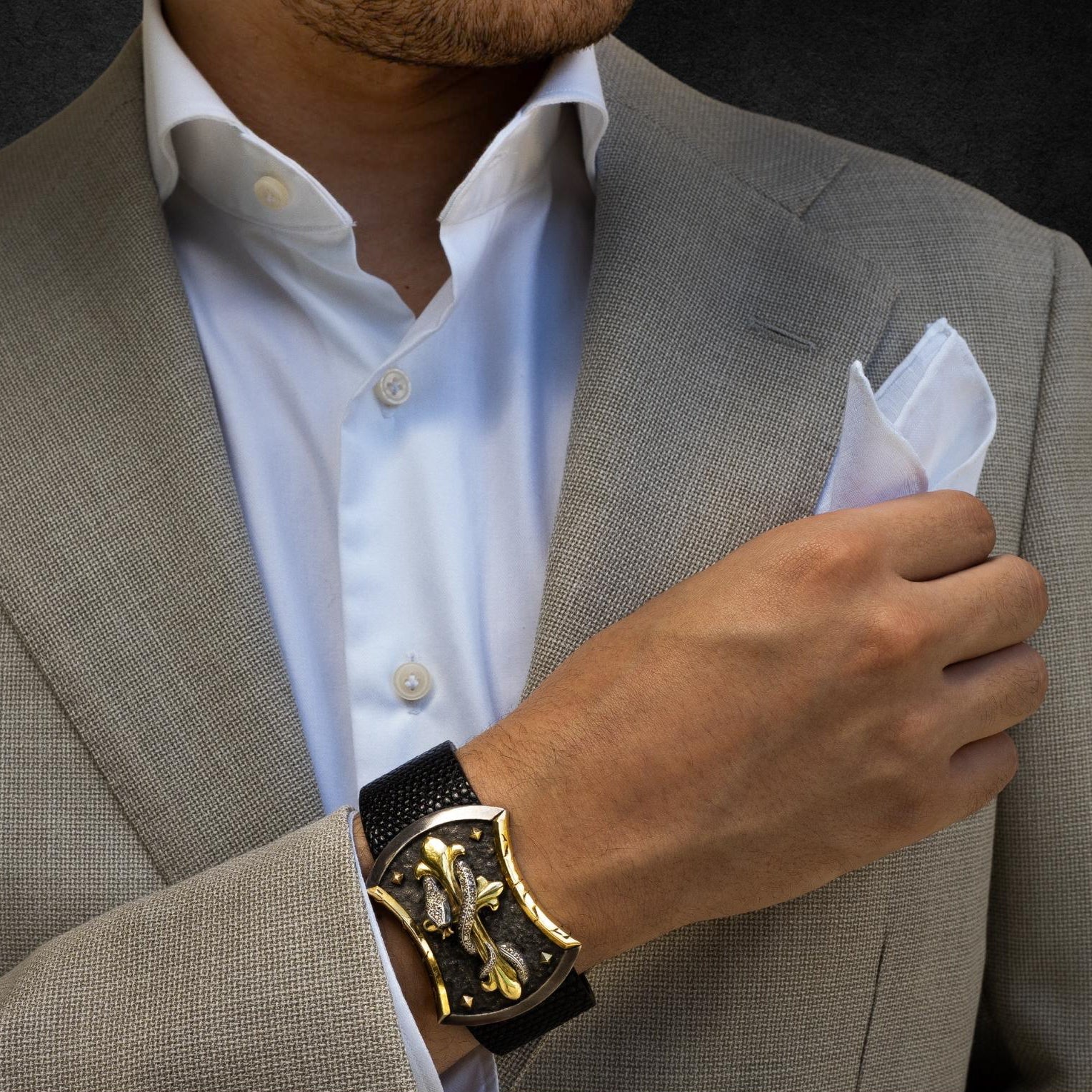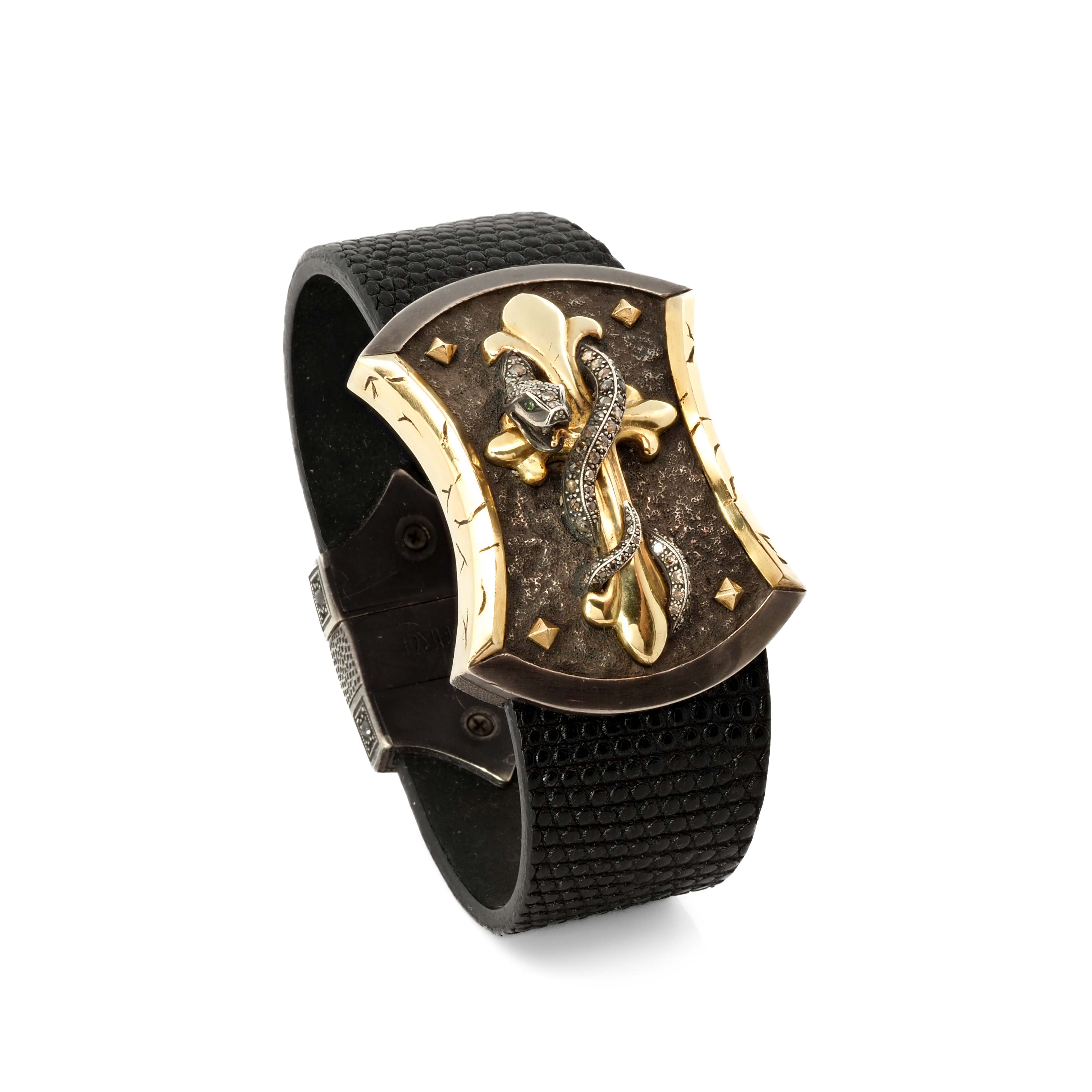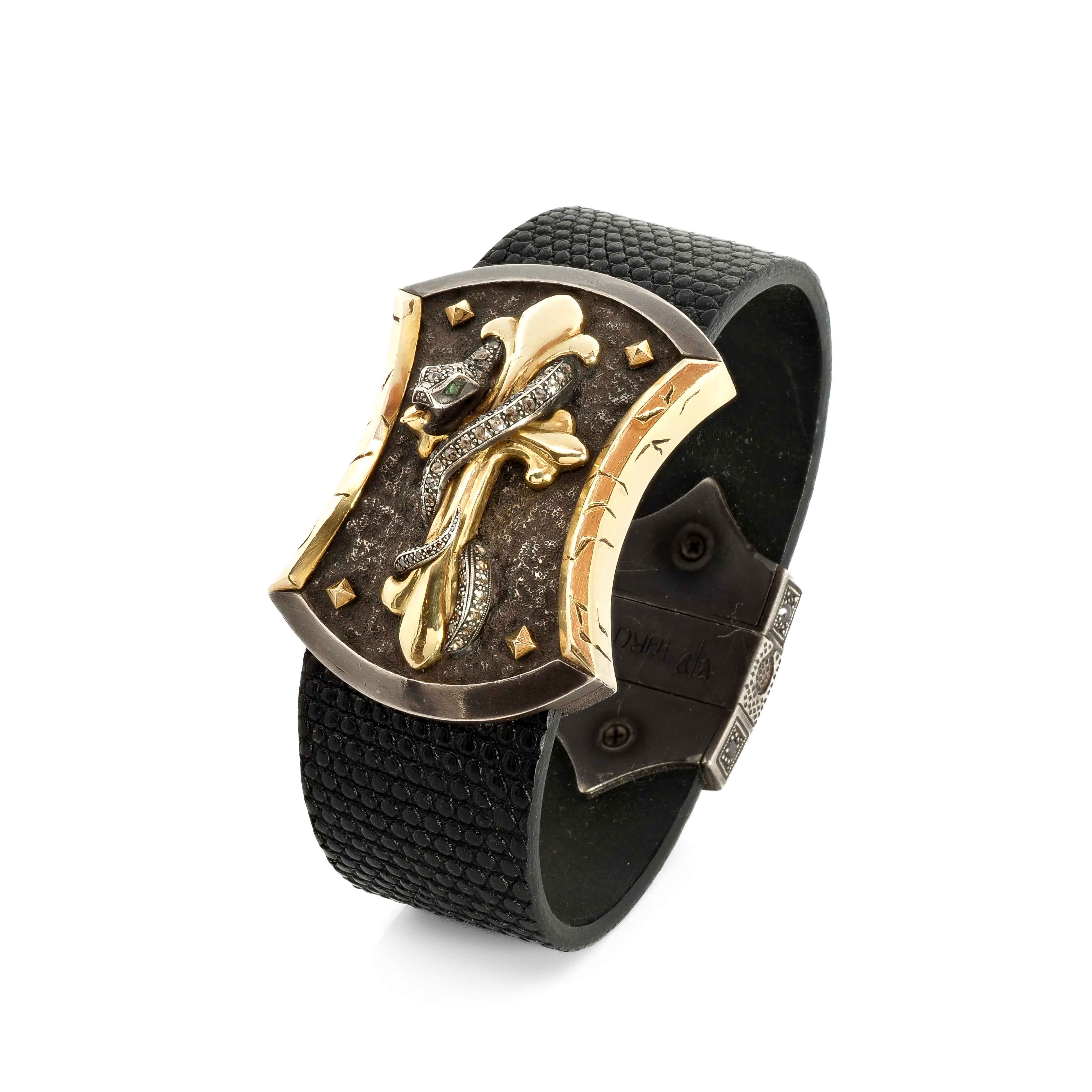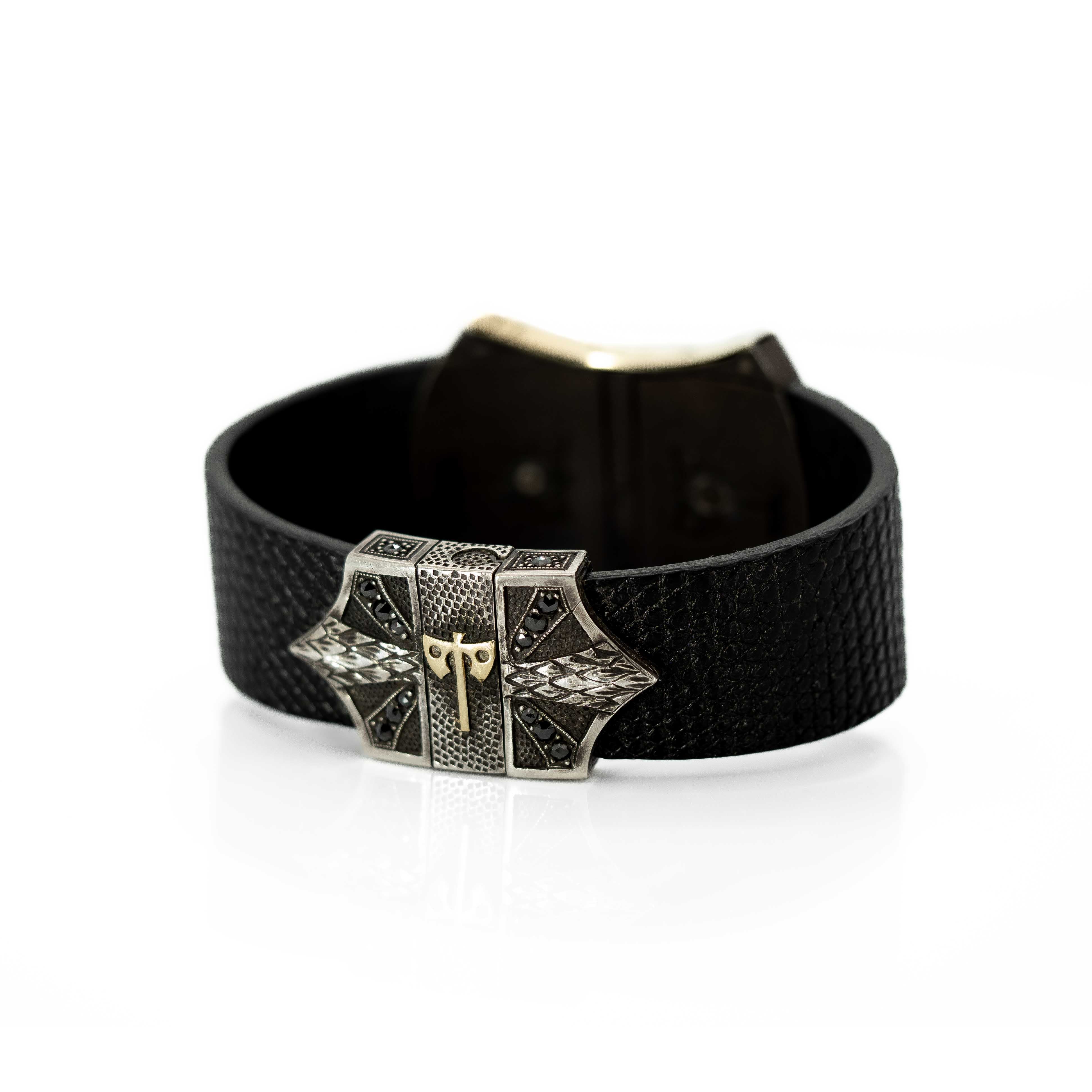 Cross and Serpent Bracelet with Diamonds
The Cross and Serpent Bracelet is a unique piece crafted from 18K yellow gold and sterling silver featuring the intertwined symbols of a cross and a serpent, adorned with brown diamonds.
The cross is a symbol of faith, sacrifice, and redemption, while the serpent is a symbol of transformation, healing, and wisdom. The intricate details of the design are masterfully executed, with the cross and serpent twisting and turning around each other in a mesmerizing pattern. 
The bracelet is not only a beautiful piece of jewelry but also a meaningful one, making it the perfect accessory for those seeking to express their spiritual beliefs or for anyone who appreciates the symbolism of these ancient symbols. 
Cross & Serpent bracelet
serial number 
T184
● 
brown rosecut diamonds: 0.90 cttw
● 
brown diamonds: 0.45 cttw
● 
black rosecut diamonds: 0.69 cttw
● 
18K yellow gold 
oxidized sterling silver 
● 
black lizard leather band
bracelet length: 7.80" (20.00 cm) custom length available
shield size: 2.00" (5.00 cm) x 1.50" (3.80 cm)
leather band width: 1.10" (2.80 cm) to 0.80" (2.00 cm) tapered

---
Share
THE SERPENT
Historically, Serpents, or snakes, represent fertility or a creative life force. As snakes routinely shed their skin, they are symbols of rebirth, transformation, immortality, and healing. The Serpent's resemblance to the umbilical cord was seen as joining all humans to Mother Earth. Serpents are represented as potent guardians of temples and other sacred spaces.