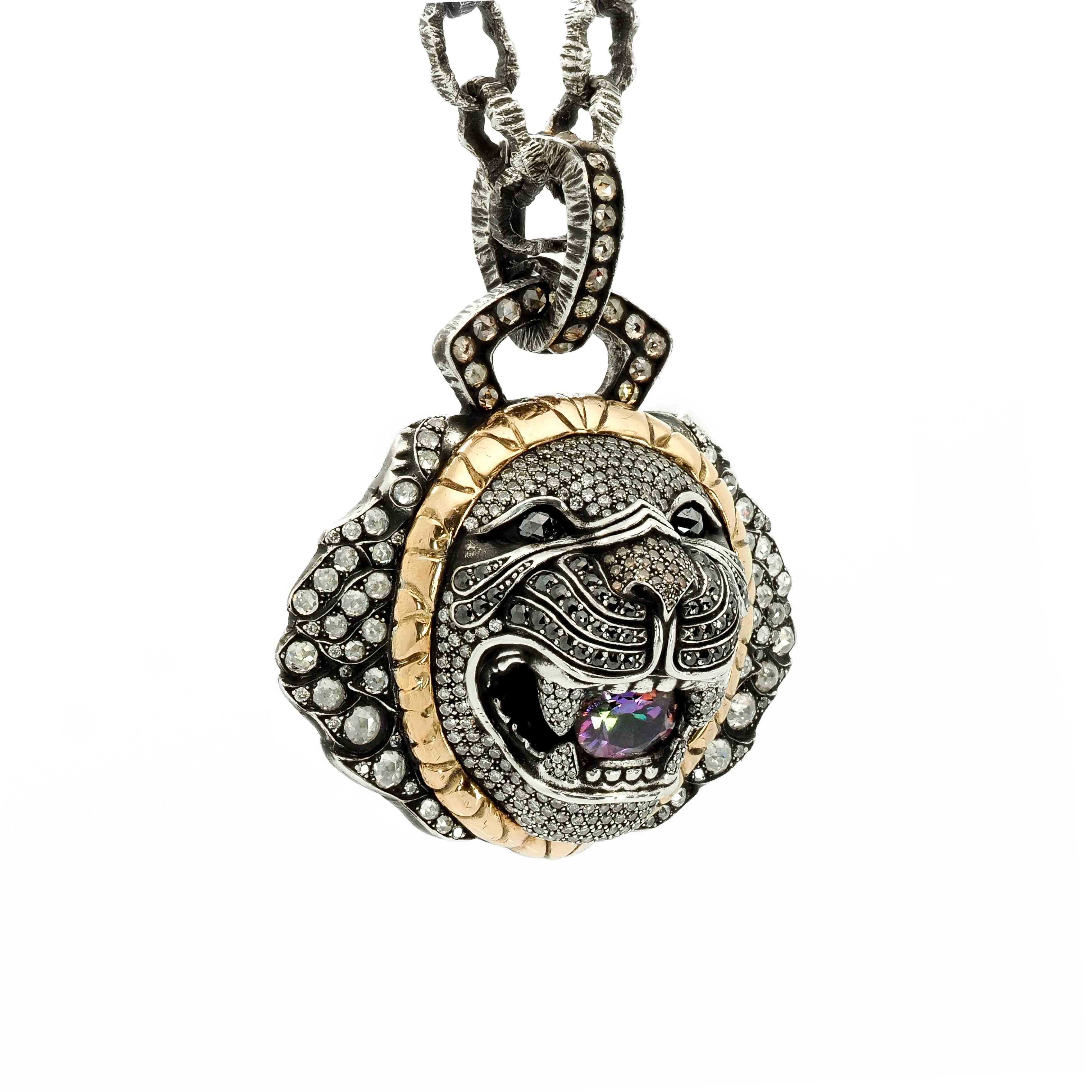 Lion Necklace with Diamonds Signature Series
This stunning signature series lion necklace is crafted from 18K gold and sterling silver and features a magnificent mane set with antique rosecut white diamonds. The face of the lion is fully encrusted with sparkling champagne, brown, and black diamonds, while the regal creature bites a breathtaking 3 carat oval shaped sapphire with its teeth in white diamonds. This piece of jewelry embodies the strength and power of the lion, a symbol of majesty and courage, and is a stunning tribute to this iconic creature.
Lion signature series necklace
serial number
T233S
● 
white antique rosecut diamonds: 3.61 cttw
● 
black rosecut diamonds: 1.13 cttw 
● brown
 rosecut diamonds: 2.40 cttw 
● 
champagne diamonds: 2.30 cttw 
● 
white diamonds: 0.23 cttw 
● 
oval shape sapphire: 3.04 cttw 
● 
18K yellow gold and 
oxidized sterling silver 
necklace length: 31.00" (79.00 cm) adjustable to any shorter length
lion head pendant size: 2.15" x 1.60" (5.45 cm x 4.00 cm)

---
Share
THE LION
In many cultures, the lion is seen as a symbol of strength, courage, and royalty. It represents the qualities of leadership and power, and is often associated with the sun and the idea of kingship. The lion is also associated with courage and valor and is seen as a symbol of protection and guardian. It is also believed to have healing powers and is seen as a powerful symbol of courage and strength, the perfect representation of the wearer's personality.